PF WaterWorks™ has been formed with one goal in mind - Look at the obvious needs people have and offer innovative, eco-friendly and convenient solutions at competitive prices. With a focus on respect for customer's time, effort and money and the commitment to help improve our environment, PF WaterWorks™ simplifies, modifies, or develops new products to improve/promote self-sufficiency in the residential, commercial, industrial and hospitality sectors.
PF WaterWorks™ is a product development and manufacturing company targeting 'Clean and Green' products (both for residential and commercial applications). In recognition of the significant implications/consequences for personal property and community infrastructure in these areas, PF Waterworks™ provides advanced technology that is certified for public health and safety. Kitchens and/or bathrooms are hardworking, multifunctional and preferably attractive rooms in our homes, office buildings, airports, schools, in fact, all areas of our lives. Easy, dependable performance is a must in drain management for these areas.
PF WaterWorks™ was founded in Texas with offices located in Houston and Dallas. Our manufacturing and logistics facilities are in Oklahoma and India. PF WaterWorks™ sets a new industry standard in Drain Management products providing good value for customers, employees, strategic partners and shareholders of the company. PF WaterWorks prides itself on being the best in the business. That means we're dedicated to bringing you the high-quality products, competitive prices, and excellent customer service.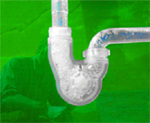 We have thoughtfully selected the products we offer. We stand behind the products we sell. As a result, you may shop with the confidence that the products you choose will function properly for years to come. We manufacture and stock the products and because of this, we can usually ship the product within two to three business days of your order placement. We are very good at handling smaller quantities as well as crating and shipping larger quantities based on our customer's needs.

From the features on our user-friendly website to product shipping, everything has been designed to give you prompt, friendly, responsive service. You'll find product features and purchase information readily accessible. Installation and operation instructions and a FAQ page are also provided for the inquisitive/inquiring mind. If you don't find an answer to your questions, just email our customer service at customerservice@pfwaterworks.com

So please, enjoy your visit while browsing our online store. We are confident that you will find what you are looking for!